Ranikhet, Uttarakhand has a special significance for all who tread the path of Kriya Yoga. Here, the yoga master who revived Kriya in the modern age, Lahiri Mahasaya, first got initiated by his Guru, Mahavatar Babaji.
As the story goes in Autobiography of a Yogi, Lahiri was transferred to Ranikhet while working as an accountant in a Military Engineering Department when India was still a British colony.
After dispensing his official duties, Lahiri often took a walk in nearby dense forests. On one of such walks, he heard his name being called from somewhere in the mountains. As he followed the voice, he discovered a youth of not more than 25 years, with long copper-colored hair and an appearance strikingly similar to himself.
This youth was none other than Lahiri's guru, Mahavatar Babaji. The story is wonderfully described in Autobiography of a Yogi which I highly recommend you read if you haven't already.
But long story short, Babaji initiated Lahiri into Kriya Yoga near his cave and sent Lahiri ou to share this sacred technique with all "who humbly ask for help."
Ever since then, this cave has been a point of attraction for Kriya Yogis from all around the world, no matter the lineage they belong to. Ananda Sangha teachers regularly lead deeply inspiring pilgrimages to this cave.
Motivated by the holiness of this cave, I along with a couple of friends, set out on our pilgrimage. What follows is an account of our day-by-day experiences and learnings from this holy adventure.
---
Day 1
After arranging a car through one of our friends, we started our journey by road at 5 am on a cold Friday morning in the last week of November. It takes roughly 10 hours to drive from Delhi to Ranikhet but took us almost 13 hours.
The trip, though long, did not seem so at all. We made more than adequate stops in between to eat, have tea , and buy fruits. Riding with devotees, moreover, is always fun. Since all of us have a single goal — God-realisation — one can freely talk about matters that come to heart without worrying about "toning it down" for the general audience.
Time went by quickly as we ate our snacks, and listened to Yogananda's and Swami Kriyananda's talks, music, and chants. Since I was the only one who didn't know how to drive a manual, geared vehicle, I had the good fortune of relaxing with a book on several occasions throughout the road trip.
One of the places we stopped at on our way to Ranikhet was Kainchi Dham which is the ashram of Neem Karoli Baba in Nainital. Neem Karoli Baba was a great saint and a devotee of Hanuman. He became famous after one of his American disciples, Ram Dass, wrote about him in many of his books, including one liked by many hippies in the 20th century — Be Here Now.
Ever since then, his ashram has become a point of attraction for seekers from all walks of life. World-known celebrities and top businessmen like Steve Jobs, Mark Zuckerberg, Julia Roberts, etc have visited and enjoyed his ashram.
Our gang stopped there to admire the beauty of the place and meditate near the temple for some time. After a much-needed meditation break, we then proceeded to have a delicious lunch. Thus having satisfied both our souls and our stomachs, we heartily began to tread the last few kilometers to Ranikhet.
While we didn't achieve our goal of reaching before sunset, we made it to Ranikhet Club (our hotel) around 7 pm. The rest of the night was spent playing table tennis, having dinner, deciding our plans for the next day, and meditating.
---
Day 2
We woke up somewhat energized the next day. Fatigue was a definite reality for all of us after a long drive from Delhi. But the view of snowy mountains and the chilled air of Ranikhet took all our fatigue away.
For aspiring young yogis like us, these hills were a haven. The fresh air of the mountains made everything more enjoyable — meditation, energization, exercise, yoga, and meals.
Right from the first day, my focus was to prepare myself to meditate deeply in the cave. Alas, for some reason I found it difficult to do my kriyas as effectively as I usually do. Leaving the matter in God's hands, I stopped thinking about it for the time being.
To go to Babaji's cave, one has to drive for about 2 hours from Ranikhet to Kukuchina. There, from a little tea stall, begins a narrow trail where one can go by car for a certain distance. After that point, one has to hike to the cave.
A few kilometers above the cave is Pandavkholi, named after the Pandavas whose presence is strongly felt there. Pandavkholi has a heavenly view of the snowy Himalayan peaks which tends to take even the most restless mind into a meditative state. The place is even more important because Yogananda said that he was Arjuna, one of the five Pandavas, and received the ancient wisdom of the Gita directly from Krishna.
Since we wanted to spend a couple of days enjoying Babaji's cave and Pandavkholi, we were looking for a place to stay near Kukuchina.
We planned to first visit Pandavkohli to see if we could stay there, then come down to explore other places. Fortunately, we found a place owned by Mr. Joshi who has been there for a very long time. Famous Indian celebrities who are devotees of Mahavatar Babaji have come and stayed in his simple, cozy guest house.
When we'd called him earlier he had told us, to our dismay, that the place was booked on the date of our arrival. When we met him, however, we were told that the group staying there just left the previous night and now the whole guest house was almost empty! Thank you, Divine Mother!
Unfortunately, there wasn't enough time for us to go all the way to Pandavkohli and come back before the sunset. We also made the mistake of leaving our bags back in Ranikhet so we couldn't check into Mr. Joshi's guest house yet.
Still having a couple of hours at hand, we decided to hike halfway to Pandavkohli and train our bodies for the days of hiking that were in front of us. The hike was relaxed, meditative, and enjoyable. Being an A-type personality, I learned the importance of slowing down and enjoying the present moment without worrying too much about sticking to a schedule.
Our trip was quite unplanned. But we had left the work of planning to the Great Planner who plans and manages the whole universe! Repeatedly, to my surprise, the Planner ensured everything was taken care of, in ways we never could've done.
More and more, we learned to rely on this inward feeling of grace and let go of our mental restlessness. As Anandamayee Ma told Swami Kriyananda, "Actively depend on grace and you'll never find it wanting."
After getting back from the hike, I met 3 people from Turkey, Portugal, and India, who had just come back from Babaji's cave. Eager to know about the cave, I started chatting with them. They were Kriya Yogis from a different lineage and had visited the cave many times.
"Indeed," I thought, "Babaji, through Kriya Yoga, has planned the salvation of this whole world, and this mission has spread wider than anyone can imagine!" This short conversation with them had ignited my zeal to visit the cave even more.
After everyone was back, we got into the car and started driving back to Ranikhet. On our way back, we came across the famous Dunagiri temple dedicated to Maa Dunagiri. To visit the temple requires one to walk 400 steps laden with temple bells. The walk is nonetheless pleasant, at least for young men like us!
As we climbed the stairs in anticipation, we were a little confused to find that everything was locked. There was no sign of a living being there. The sun was setting and everything felt eerily still.
I, along with one of my friends, had reached the temple before the others. Seeing the temple locked, we saw a lot of temple bells lying outside the main puja (worship) room. Suddenly a thought sprung into my mind, "This would be a good gift for the Ananda ashram in Delhi!"
Shamelessly, I picked up the best of the lot and kept it in my pocket. I told Divine Mother, "I'm treating this as a gift from You to me. Thank you!" Perhaps Divine Mother had smiled at my foolishness. But this child simply had to take something from this holy temple!
As we sat down to meditate for some time, a priest showed up and asked what were we up to. Perhaps convinced of our sincerity after seeing us meditate in front of the closed temple, he offered to open the temple, especially for us.
He told us, however, "Don't tell anyone downstairs that you got the darshan from inside. It's not legally allowed to have visitors inside but I'm letting you see the shrine."
Why did he let us inside? I don't know. But one would be inclined to think that this was the doing of the Great Planner once again! I suppose the rational mind would call it a mere coincidence. But seeing things working out in our favor without any effort on our part repeatedly made me think otherwise.
This is why the life of a devotee is so sweet. The devotee finds that the more he surrenders himself in God's hands, the more he's taken care of. In a very small way, I got to experience the truth of this statement on this trip for which I'm deeply grateful to my Guru and Divine Mother.
The priest told us that both Lahiri Mahasaya and Mahavatar Babaji had done intense Tapasya (austerities) at this holy spot. After a few minutes of darshan, he told us that we were free to meditate outside and stay for the aarti.
Yet, owing to the loud devotional music that soon started playing, we had to end our meditation and pack up.
On our way down the temple, we came across a small cave that seemed extremely well kept. A sadhu was sitting inside doing Japa. We could only see his hands the fingers of which were moving through a mala.
Excited at the prospect of meeting a sadhu, we went straight inside and saw the image of Mahavatar Babaji on his altar. The sadhu seemed engrossed in his practice and waves of deep calmness came out of his eyes as he looked at us. He blessed us with a tika (mark) of vibhuti (ash) on our heads and prayed to Ma Dunagiri for our salvation.
As we closed our eyes to absorb the vibrations of this place, the sadhu politely showed us the door! (For those of you who know Hindi, he said, "चलो अब जाओ." Well, I think that's the most polite way a sadhu can send away 4 boys out of his cave!)
After this adventurous evening, we returned to our rooms in Ranikhet, determined to visit Babaji's cave the next morning.
---
Day 3
The morning brought with it calm excitement to visit the cave of the great master. We woke up early and went to Kukuchina to climb up to the cave. Since the car goes only to a certain distance, we had to hike the rest of the way. Surprisingly, we completed the 1-hour trek in about 20 minutes.
Along the route, we also came across a meditation temple made by the Yogoda Satsanga Society (YSS) of India in honor of the great master and our line of gurus — Babaji, Lahiri Mahasaya, Swami Sri Yukteswar, and Paramahansa Yogananda.
On reaching the cave, we, fortunately, found it empty. One of our friends had bought hundreds of photos of all the gurus which we used to set up the altar. These photos were then distributed to various friends and devotees after returning to Delhi. I also took a couple of those photos and proceeded to set up another altar at the corner of the cave where I set up my asana. (These photos blessed by Babaji are now framed, hanging in my room).
Coincidentally, earlier the same morning we had stopped by a store operated by widows of deceased army officials in Ranikhet called KRC Woolens, from where we bought, among other things, new shawls, and asanas. We took these meditation props as well to be blessed by Babaji.
Since there was no one else in the cave, we hung a huge shawl on the iron gate to block the light from entering. Once the door was shut, I felt transported to another plane altogether.
Soon after I started meditating with a desire to go deep as soon as possible, a few men came to visit the cave, opened the door, and perhaps saw us meditating. Not knowing who Babaji is or what the cave is all about, they started chatting unceasingly. Imagine our agony!
Since they were obnoxiously loud, I kept praying to Babaji, "बाबाजी इनको वापिस भेजिए " ("Babaji please send them back"). I recited this for the next few minutes almost like a mantra. Surprisingly, this "mantra" took me deep very quickly. After a while, Babaji sent those people away in response to my prayers.
Now I was finally ready to dive deep, or so I thought. You see, my trouble with doing kriyas had continued from the day I came to the hills. I believe it was to do with the sudden change in the altitude and the air. Needless to say, I was a little discouraged coming to the cave and finding it difficult to do my Kriyas.
A negative thought then crept into my mind, "I think I'm not worthy to be here." With the grace of Guruji, however, I replied to that thought, "Whatever it is, I give it to you Babaji.
Lousy or perfect, I am your chela, I am your child, accept my Kriyas." This was a much-needed lesson in surrender and self-offering. With that thought, I completed my 108 kriyas followed by a period of sitting in silence, and a few other techniques.
After the meditation was over, I felt an incredible amount of peace in my heart as well as great reverence for all the masters. When I opened my eyes, the cave was empty. Taking advantage of this, I prostrated myself in front of the altar in deep respect and longing.
Just then one of my friends opened the door of the cave and I saw all of them waiting for me to leave. The caretaker of the cave had also been patiently waiting to lock the cave for the day.
Still having time on our hands before the sunset, we desired some more adventure! I suggested we climb up the concrete slab right over the cave which I didn't realize was going to be much more difficult than it looked.
Ironically, everyone except me was able to get on top! Trying hard to get there, one of my friends stretched out his hand to help me. Being very grateful to him, I held his hand and foolishly let go of both of my legs! I was hanging in mid-air on a mountain with only one person holding my hand. A fall from there would not have been fatal but would be enough to break a few limbs!
Fortunately, I placed my feet firmly on a rock once again and managed to climb up. After this adventurous incident, we saw another small cave. It was apparent that the cave had previously been much larger but had been blocked by new walls and concrete constructions.
Since there was no way to come back the same way we got up, we left our bags and went further up to see more caves. These caves formed a part of the group of caves where Babaji and his disciples stayed.
The possibility of going back down seemed bleak and we were mentally preparing ourselves to spend the rest of the night in the jungle. Eventually, though, we were able to find our way back down to the entrance of the cave.
While coming down to our car, we took a further detour and found another cave with a dhoti and a few burnt candles. The prospect of finding another sadhu in the wilderness excited me, but alas, there was no one to be seen there. Coming further down, we also found a spot where it's believed that Babaji materialized the Golden palace for Lahiri and conducted the sacred fire ceremony before Lahiri's initiation.
Finally, we decided that we'd had enough adventure for today and returned to our car, only stopping in between for washing our heads and faces in a nearby fresh stream.
The subsequent stay at Mr. Joshi's guest house was pleasurable. We gazed at the stars for a long time followed by yoga to relax, and by a simple, yet delicious meal. (Let me just say here once and for all — Divine Mother ensured that we had good food throughout the trip, no matter how remote our location was!)
As we gazed at the stars, we saw the Milky Way clearly along with several satellites, Venus, Saturn, Jupiter, and many more celestial objects. How refreshing it was to look at the sky and see something other than a layer of pollution, which is the only thing one often gets to see in Delhi.
The beauty of Divine Mother surely leaves the devotee awestruck. As we looked at the stars, I thought, "Ah one day our consciousness will expand beyond the limits of this mortal frame, to embrace the stars, galaxies, and the whole universe (or multiverse!)" Unimaginable, to say the least!
---
Day 4
The next morning started with chanting and sunbathing. At this point, one of the caretakers at Joshi ji's guest house, Balu bhaiya (who we'd made good friends with), asked me where we were from.
I told him that we were from Ananda, and were Kriya Yogis, all disciples of Yogananda. Nodding his head he exclaimed, "I knew it! Normally, a group of 4 boys staying together invariably creates a ruckus. But when I saw you all peaceful, happy, and chanting, I knew you had something different."
We also made a new friend that morning — a female dog who we named Da (Da in Bengali means "brother" but also "to give"). Since we'd planned to hike to Pandavkohli later that day, Da led us to the top of the hill. She was very sweet to walk several meters ahead to scan the way and then return to us ensuring everything is safe. We reciprocated her love by feeding her, giving her some water, and never leaving her.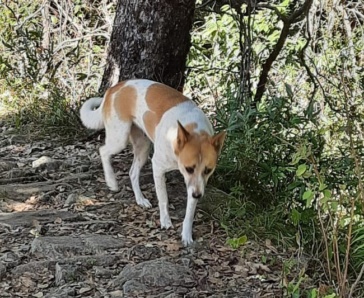 Pandukholi or PandavKholi is named after the Pandava brothers of Mahabharata, which is 27 km away from Dwarahat. Here used to live a great saint called Balvant Giri Maharaj.
Devi Mukherjee writes in Shaped By Saints, about his meeting with Balvant Maharaj during his sojourn in the Himalayas. When Devi reached Pandavkohli, he saw a few Western scientists requesting Balvant Maharaj to study his brain waves using an electroencephalograph (EEG).
The Maharaj agreed to their persistent requests. To their astonishment, the lines on the screen were dancing as if in glee! Maharaj was having fun with them. Then he entered a state of trance and there was no sign of a brain wave at all!
"How is this possible" the scientists cried. "I was not in my body that time; therefore there were no waves," the Maharaj replied. He made a further comment: "Your science can destroy life and demolish material objects. The yoga science can destroy, then re-create them at will. For example, look at that tree. I can burn it into ashes, then give it back its life as before. Your science cannot do that! Study yoga!"
The cave of Balvant Maharaj is still well maintained, with a fire constantly burning inside it. The caretaker of the area, Jeevan Ji, had met Balvant Maharaj while he was still a boy.
He told us that the Maharaj had matted hair longer than his height. Sometimes, children would walk behind him carrying his hair. He was a great devotee of Krishna who always sang "He Krishna Govinda Hare Murari, He Nath Narayan Vasudeva."
He also used to keep a dog named Mohan who served as a guide for guests. Lovingly Maharaj asked Mohan to show people around when he was himself busy meditating.
Maharaj got his samadhi in Pandavkholi. His daily routine was to start his pooja in the cave at midnight and end at 8 am. Sometimes he would continue till noon unless disturbed by visitors. Mohan, his dog, guarded the property to ensure no one disturbed his sadhana.
Interestingly, we got to know that the sadhu we had met in the Dunagiri Temple a few days earlier was Swami Dharmendra Giri, a disciple of Balvant Maharaj. Dharmendra Giri had made his first cave on an adjacent hill, single-handedly fighting with a bear(s) and taking his righteous place to meditate! Now he sits in the small kutir in the Dunagiri temple.
One of Balavanat Maharaj's greatest teachings was the power of love. He gave love to all people who came here and that is how they remember him today.
As he was taking his mahasamadhi, his followers were worried about managing the ashram after his passing. He told them not to worry and to keep strong their faith in God. Today by his grace, the caretakers can even house and feed up to 500 people in this modest place (and did so, before Covid).
We had made up our mind to spend the night in Pandvakohli and hike back the next morning. But the spiders and tarantulas we discovered in our room changed our minds! A friend of ours, who was particularly scared of them, gave us an ultimatum, "We're going back to Mr. Joshi's guest house!" For the benefit of all parties involved, we decided to head back after a quick meditation.
The cave of Balvant Maharaj was filled with smoke, which amplified my preexisting difficulties in doing kriyas. After a short time, I came out of the cave and went back into the room to read a book, thinking all the time, " I wish I had some warm water to clear my throat." Just a few minutes after that Divine Mother sent someone who offered me a special tea made of Himalayan herbs!
After having adequate rest and meditation, when we finally decided to head back, the sun started to set. Thus we had to complete the hour-long hike, mostly in the dark. With our torches in our hands, we slowly descended the Himalayan jungle being aware of God's presence and protection around us.
This experience changed me from the inside. I learned, as I said, to cultivate an inward feeling of grace and Divine protection that I did not have before.
Da, our dog, was still faithfully with us. Even as a person who has been scared of dogs since childhood, I could easily converse with her as a friend. Even more surprisingly, she complied with my requests. This was my first dog friend which taught me another lesson — all beings respond to genuine love. If we fear them, they will trouble us. If we love them, they will love us.
After this wonderful hike in the dark, we had dinner and retired to our rooms for the night.
---
Day 5
Having completed the 2 main objectives of our trip — visiting Pandvakohli and Babaji's cave — the morning of the fifth day was relaxed.
After waking up early, as usual, I did my energization exercises, sadhana, had tea, and then chanted for an hour to Master. Sitting in the clear sun, free from Delhi's pollution, singing to my Guru was a deeply joyful experience, to say the least. Every morning, I eagerly waited to soak in the rays of the sun and recharge my body and mind.
Having been a perfect planner all my life, I had to work hard to let go of all my desire to know what was coming the next second. As I said above, I learned to trust that Master had planned everything for us, much better than we could.
With this thought in mind, not asking about where we will spend the night or when we will return to Delhi, we started towards Ranikhet. On the way, we explored a few alternative guest houses that one can stay at for future trips. We made notes and spread the word about these places to other gurubhais as well.
After coming back to Ranikhet Club, our home for the night, a long discussion ensued about whether we wanted to go to Rishikesh to have a couple of days of relaxed meditation or head back to Delhi and resume our normal lives.
We all had been on the road continuously for 5 days and were doubtful if more travel would bear any fruit. We lamented about the fact that though we tasted the peace and bliss of Babaji on this trip, it seemed to be getting away from us amidst the non-stop driving.
As you can see, dear reader, Maya intrudes even on the holiest of pilgrimages. Fortunately, we all decided to sleep on the matter and meet at 7 am the next morning near the car to decide our future course of action.
---
Day 6
To my delight, the group was awake and ready to head towards Rishikesh, excited to bathe in the Ganga and meditate in the Vashishta Gufa. Another adventure I was looking forward to was meeting Vanamali Devi who stays in Rishikesh. After having read her book, Shakti: The Realm of the Divine Mother, I was inspired to seek her presence (Alas we couldn't meet her then since she was in Pune).
On our way to the "City of Saints," we stopped at Nainital to have a delicious breakfast and replenish ourselves with winter essentials like caps and sunglasses that I had foolishly lost during one of my treks.
We continued moving towards Rishikesh unceasingly, not stopping even for meals. The place we stayed at had a beautiful private Ganga beach that served as an excellent spot for meditation. Having thus found a bed, at last, a period of slumber followed long hours of back-breaking road travel.
---
Day 7
The next morning, I woke up before dawn to have tea and head to the beach for meditation. As I did my energization exercises, Divine Mother chose to check if I'd overcome my fear of dogs.
A local dog kept barking at me from the rooftop, almost 200m away from the beach. Apart from being new to the place I was also the only one on the beach, serving as the sole focus of the dog's attention. I tried to get away from his sight but to my surprise, he kept switching places to never leave me unattended!
This was not one of your cute dogs that everyone loves. This was a full-grown German Shepherd which can easily pass as a formidable wolf.
The dog started coming closer to me, I started moving away from him. By this time, other guests at the beach also started questioning this dog's special love for me! At one point, however, I let go of all my fears, stood still, and let the dog come near me. And just as most dogs will do, he smelled my feet and then quietly sat beside me as I found an asana to meditate.
In this way, Divine Mother taught me to love Her in all of creation and to cultivate a kinship with all manifestations of God, which was previously unknown to me.
The meditation that followed was unusually peaceful. One only needs to sit near the Ganga to find his mind automatically drawn inward without the use of any technique.
After the meditation, we all had some breakfast and headed to Vashishta Gufa and Arundhati Gufa to meditate more.
Sage Vashishta is one of the Saptarishis (The Seven Great Sages) from ancient India. The Rishi Vashistha is considered the manas putra of Lord Brahma and the Guru of Lord Ram. He meditated in this cave for a long time. His wife Arundhati also did her sadhana in a nearby cave.
It is said that the Vashishta Gufa was sealed by Purushottamananda Maharaj because many saints (perhaps in their astral bodies) still meditate at the deep end of the cave that stretches below the main city of Rishikesh! People who've tried to dig through it have seen diyas (oil lamps) lit in the cave despite it being completely inaccessible!
Due to these meditating saints, the powerful vibrations of Sage Vashishtha, and many other sages that followed, I found it easy to concentrate my mind. The stillness and quiet I felt in that cave are one of a kind. Never before I had known a place on earth so still.
We also went to see the Arundhati Gufa, which is much smaller. This is the cave where Arundhati, the wife of Sage Vashishta did her penance. Jesus is rumored to spend his days here in meditation during the lost years and Swami Kriyananda also took month-long seclusion here in the 1960s. It's a powerful cave, overlooking the river Ganga and is a perfect place for a sadhu to meditate.
Today, alas, that beach has become an attraction for tourists and wedding photoshoots. But it's apparent that just 50 or 100 years ago, this place would've attracted countless great souls.
After a peaceful meditation in both the caves, we proceeded to immerse ourselves in the holy waters of Mother Ganga. There was a problem though— Her waters were icy cold.
Thankfully, Master has taught us enough techniques of mind control and willpower to accomplish these feats. Using a combination of affirmations and physical exercises I was able to not only bathe but also meditate, sitting on a rock in the river. It was difficult to get out of the river after some time. We played games and contests to see who can stay underwater and hold their breath the longest!
Whilst taking a bath, we saw a beautiful place on a nearby hill and wondered if we can visit there. Google told us that it was a spiritual community with a big temple and space to live. We called them and were surprised to know that though they were closed, they were hosting a group and had already prepared lunch.
Feeling that something is trying to happen, we went up with bated breath, excited to explore another spiritual community apart from Ananda.
While hiking up to the community, one of our friends asked, "Will they have soup for lunch?" I said, "We don't know!" Yet as Divine Mother would have it, the soup was the first thing we were offered. After the meal, I wanted to have some masala tea but was content with the Tulsi tea that was being offered. Again Divine Mother didn't let this desire be unfulfilled — out of nowhere, there came a person holding a masala tea kettle in his hand that someone else had also ordered. We thanked Mother for being so benevolent this afternoon and taking care of us.
After lunch, we spoke to the owners and managers o the place about starting a spiritual community and upholding Dharma. We further made arrangements to have group meditation retreats led by Ananda Sangha teachers in this tranquil spot.
During the evening, we went to the Rishikesh market to find anything interesting. After having long sought a murti of Divine Mother, we bought two of them from a gift shop. One of us also bought an astrological mala. We then proceeded to visit the Laxman Jhula and went back to our rooms for dinner and sleep.
---
Day 8
After experiencing the wonderful divine vibrations of the Vashishta Gufa, we went there again the next morning to bless the murti and the mala before we took them home.
Once again, we took a bath in the icy, holy waters of Mother Ganga. By this time, all my resistance against feeling hot and cold had almost vanished. Ever since that day, I've never used hot water to bathe even a single morning. I was happy to overcome that sensation and hope these after-effects stay with me for this lifetime.
After 2 days of relaxed beingness in the City of Saints, we concluded our trip by having coffee in a 5-star hotel nearby to celebrate a successful trip (I'm afraid coffee was the only thing we could afford to have there!).
The rest of the day included a 7–8-hour drive back to Delhi, finally reaching around 11 pm, ready to continue our lives in one of the most restless cities in India, while still trying to hold on to the calmness we've accumulated over the last week.
---
Thus, dear friend ends the story of this holy pilgrimage and the lessons we learned. May the Light of Babaji, our great Guru, and Divine Mother shine upon you always. Aum.