Finding perennial joy is the goal of human life. Alas, the way to that joy isn't always clear – it's full of detours and traps along the way. But the guidance of a Satguru (a true Master) can save us from the pangs of delusion. Read how Shruti found her way to joy and happiness within her own being.
On my birthday, I got the best present of my life. I had planned to spend time with my family. But I had little clue that I will be meeting my Guru on this special day. My mother convinced my sister and me to accompany her to Ananda Sangha Delhi to attend the Spiritual Fair held in September 2018.
Along with us, we had two little baby girls – a 5-month and a 1.5-year-old – who participated in yoga, meditation, and other sessions. The kids cooperated well and we could attend the sessions nicely. I fondly remember spending time on the open lawn in front of the statue of Guru Ji.
At the end of the event, when I received the complimentary copy of the revered book – "The Autobiography of a Yogi", I felt elated. Being an avid reader and a book lover, this turned out to be one of the best gifts for me.
After 3 years, again, I got an opportunity to attend the mesmerizing evening kirtan on the open lawn of Ananda Sangha Delhi. Sitting under the blue sky, surrounded by trees hanging above and around, gazing at the moon and the lit statue of Guru Ji along with our lineage of Gurus made it the most magical evening of my life.
The cool wind of October month touched me and told me that my life would be cool and calm from now on. I was overjoyed to sing the chants in my heart. In search of fulfilment and inner bliss, I wondered how could I be connected to Ananda and Guruji. I was then guided to the course – Learn to Meditate – The Path of Kriya Yoga (Level 1).
The course was starting just the next day and I felt it was the right time to delve into it. I immediately enrolled myself. Then, on completion of Kriya Yoga Level 1, I proceeded to Level 2 and then Level 3.
Along the way, there were times when I was unsure if I'm ready to progress to the next level. But my teachers bestowed confidence in me and led me on the right path. I am thankful to each and every member of Ananda Sangha Delhi for supporting me and cheering for me in my spiritual journey.
During the course of my Kriya Level 3 course, I was able to adopt a night-time ritual of Energization Exercises followed by a brief meditation. One day while doing my meditation, I saw a fountain of joy. Later after my meditation, I searched the phrase "fountain of joy" with Guru Ji's name and a quote from Guru Ji came on the screen.
"Joy expresses itself under certain conditions, but it is not created by those conditions. Thus, when someone receives a thousand dollars and exclaims, "Oh, how happy I am!" the condition of having received a thousand dollars has merely served as a pickax, releasing a fountain of joy from the hidden reservoir of bliss within. So, in human experience, certain events are usually required to bring forth joy, but the joy itself is the perennial native state of the soul." – Paramhansa Yogananda
I felt overjoyed to read it and felt the presence of guidance and Guru Ji in my life so distinctly. Now, I can feel joy in so many moments of my life – even while doing regular tasks. Recently, I practiced the 'Circle of Joy' exercise during my Ananda Yoga class at Ananda Sangha. I love the name of this exercise and it truly opens up my heart to receive and share joy. On another occasion, I learned the phrase "joyful phone conversation" from my teacher at Ananda. From there on, I focus on making all my phone calls a way to share and multiply joy with friends, family, and everyone. I do fail sometimes, but Guru Ji's guidance takes me in the right direction.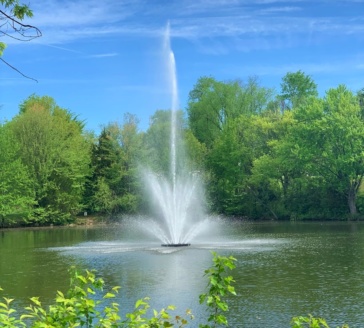 I would love to be the fountain of joy. I wish to spread droplets of love in all directions – from east to west and north to south. A water fountain is attached to and derives its power from mother earth. I would like to derive that power of love from my inner self and bring cheer and laughter all around. A water fountain is beautiful for all the viewers looking at it from all sides. The water flows seamlessly through it in different patterns.
Similarly, I aspire to wholeheartedly share the love of my heart with the wonderful living creatures of God – birds, plants, animals, rivers, sea, sky, sun, moon, mountain, and human beings.
I will consistently, honestly, and sincerely emanate joy all around. I feel the blessing and power of Guruji flowing through me as I pledge to this noble cause.
This is why I love the motto of Ananda Sangha – "Joy is within you" – it reminds us to tap into this unlimited joy within us.