"You are not responsible for anyone's karma," Dr Ushaganpathi said, in my online consultancy, when my COVID situation was worsening. "Shailesh, you need to destress and rest your body and mind enough so that it works more efficiently to heal your infection." It was my 8th day of infection, my doctor sounded a bit worried so she counselled me over a phone conversation for 45 minutes, she is heading a COVID operation in one of the biggest hospitals in India. With a rather more fatal second wave in India, the mortality rate was high, her reason for worrying was but natural.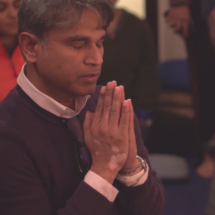 At this time, back home in Patna my mother, brother and sister-in-law (SIL) were fighting their lives in ICU, in their rather critical condition due to worsening COVID infection. Thankfully, the condition of my niece was not so bad. My father left his body a day after my entire family was hospitalised, also afflicted with COVID but not hospitalised with others due to his age. While I lay infected and worrying isolating at home in Delhi, paying my gratitude to the Masters for having a friend over to take care of me.
Going back to the start of it all, I spent my first three days of being positive – meditating, chanting, energising, resting enough to keeping myself upbeat, as when your body is vibrating in higher frequency, it fights the disease better. I was sending healing prayers to my family and the rest of Gurubhais suffering during this pandemic. I felt my strength coming from the battalion of Master's army weaponising their raised hands with radiating power of Aum! An effective channel is self-healed or in other words "An instrument is blessed by that which flows through it," as said the Master, and I was a well-proving example of his statement. I started to worry when my Ma fell in the bathroom and lay unconscious for more than 10 minutes till my brother realised that she is missing, and broke open the washroom door. The pervading virus had enveloped my entire family soon, with no help in the house, my brother and SIL kept serving and attending to my ailing parents without any rest. My bedridden dad with a 3-year long history of Parkinson's disease was now stricken with COVID. My eyes got moist each time I had a phone conversation with family back home, trying to encourage my family to feed each other or even to give the medicine time to do the least while coping with the ailments.
Later on, Tyagi Keshava Ji shared that while conducting my Dad's ascension ceremony he felt my dad was soaring with Masters. "I felt a deep joy as we did the Astral ascension" his exact words. I also believed that my dad's suffering was over and he was well-received by his guru Devraha baba in the astral world, and free at last from the clutches of this world.
With this pandemic, where I lost many close and dear ones to COVID, but mostly because they panicked in the hospital beds in isolation and had a lesser level of inner calmness only affirmed what Master said, "..untrained warriors are soon killed on the battlefield; so also the persons untrained in the art of preserving their inner peace and quickly riddled by the bullets of worry and restlessness in active life."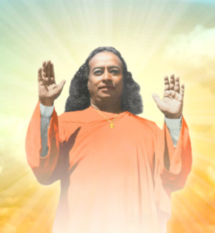 "Our suffering comes when we identify with the motion picture" remembering Master's quote about life. I did resurrect the spiritual warrior in me and started praying vehemently to divine mother and Masters to save the lives of the rest of my family, who were now in a critical state. Two doctors (also cousins) worked tirelessly for 5 days while my SIL was on a ventilator with her lungs only working 5% to their capacity. It's been over 70 days today my mother is gaining strength, my brother and niece are fully recovered. My SIL had a miraculous comeback and is slowly recovering after spending 53 days in ICU fighting for her life. What saved her was prayers and her will to live, the humble doctors said after putting such seamless effort to save her life.
My gratitude goes out to all those enthused healing angels who prayed for me and my family channelizing the power of aum and healing light in all three realms of our existence.
Jai Guru