"He who beholds inaction in action, and action in inaction, is wise among men; he is one with the Spirit; he has attained the true goal of action (perfect freedom)." – Bhagavad Gita (4:18)
Freedom, as the Bhagavad Gita explains in many passages, lies not in refraining from action, but in acting with a sense of inner freedom.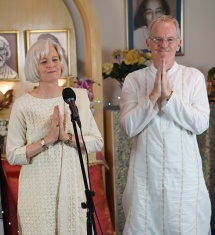 Join Daya and Keshava online for Sunday satsang.
This online satsang will also include fire ceremony, chanting, short meditation and aarti.
Schedule:
8:30 – 8:45 am: Energisation Exercises. zoom link
9:00 – 10:00 am: Chanting & silent meditation
10:00 – 11:00 am: Fire Ceremony and inspirational Satsang zoom link
The session will be live-streamed on Zoom and Facebook. Click below to visit our Facebook page.