Join Tyagis Keshava and Daya for special satsang honouring the birth anniversary of our guru, with inspirational talks, chanting, meditation and more. Take the blessings of our guru into the New Year. We'll also have a renewal of our discipleship vows.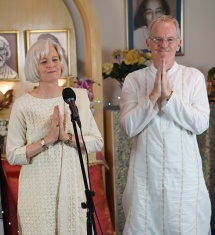 This online satsang will also includes fire ceremony, chanting, short meditation and aarti.
Schedule:
8:30 – 8:45 am: Energisation Exercises. zoom link
9:00 – 10:00 am: Chanting & silent meditation
10:00 – 11:00 am: Fire Ceremony and inspirational Satsang zoom link
The session will be live-streamed on Zoom and Facebook. Click below to visit our Facebook page.